Eggs on a Raft
bread
butter
salt
pepper
eggs
frying pan
Take a slice of bread and cut out a circle about 2 inches in diameter. Toast slowly and lightly on both sides, using a forked stick. In the frying pan, melt a hunk of butter, put the toast in the pan and wait until it sizzles. Now break the egg and place it into the hole so the yoke stays put. Heat slowly and evenly. Sprinkle salt and pepper over the eggs and then cover. It will be done when the top of the egg is white. If you have no cover, turn toast over when underside of egg is cooked.
Hamburger Casserole
ground beef (enough for one patty per person)
potatoes, sliced
onion, sliced
bell peppers, sliced (optional)
carrots, sliced (optional)
salt and pepper, to taste
Make a hamburger patty and lay in the centre of a piece of aluminum foil. Slice potatoes and onions on top of meat. Season with salt and pepper. Fold tin foil up around it all and lay on top of grill. Can cook over the coals or on the grill. The cook time will change according to the size of hamburger patty.
Campfire Pizza
1 everything bagel per camper
1 package presliced pepperoni
shredded cheese
1 can pizza sauce
Cut bagel in half. Pour a spoonful of tomato sauce on open half, add cheese and pepperoni (or topping of your liking). Place on a camp fork, warm and serve.
Jonathan's Pond Park Butter Onion Trout

*
Fresh trout, any kind
1 tablespoon butter
1 small onion, sliced
Salt and pepper
Clean the fish. Leaving the fish whole, stuff the insides with butter, salt and pepper, and as many onions as will fit. Place stuffed trout on buttered foil and wrap up. Place over fire for 7-10 minutes
Barachois Pond Camp Oven Surprise Cake

*
1 box cake mix
1 stick of butter
2 cups water
2 containers pie filling
Line Dutch oven with foil. Empty in pie filling; top with cake mix and spread evenly. Add 2 cups water and butter. DO NOT MIX. Put lid on and place oven on coals. "Bake" about 1 hour. Don't be afraid to get creative here by trying different cake mixes and fillings.
South Brook Park Shish Kebabs

*

shrimp, ham, weiners, pineapple, onions, and peppers, - anything that will stay on the stick.

Put all the ingredients in a Ziploc bag with any kind of marinade salad dressing, bib sauce, pineapple juice, whatever you like, and allow to sit for hours or overnight in a cooler. Then everyone fixes their own kebab from the bag with the ingredients that they like and cook their own on a grill rack over the coals on the fire pit. Makes no dishes and no mess. Mom loves this one!
* Recipes supplied by Chef Steve Watson
Morning Scramble
3 cups potato, 1/4" dice (good use of leftover baked potatoes from the night before)
1 cup ham, diced (or bacon or leftover cooked steak)
3 eggs
1/8 cup milk
1 cup cheddar cheese, shredded
1/2 cup green onion, diced
1/2 cup tomato diced
salt & pepper to taste
Grease an aluminum pan or camping pan (eg. cast iron). Toss in ham (or bacon or steak). Scramble eggs with milk in a bowl and stir in cheese, onion and tomato. Pour over meat. Season with a dash of salt and pepper. Cover pan with aluminum foil. Cook over medium flame on campfire grill, BBQ or camp stove for about 30 min. Carefully remove foil cover and check on doneness. Cook until the eggs are set and the edges are crispy.
BBQ Chicken Dinner
2 med. potatoes, peeled and diced
olive oil
salt and pepper
2 boneless, skinless chicken breasts, cut into 1/2" slices
BBQ sauce
shredded cheddar cheese
heavy duty aluminum foil
Toss the potatoes with olive oil and salt and pepper. Divide them between two 8"x8" squares of aluminum foil. Gather up the edges of the squares and seal the foil at the top to make packet (leave space between the potatoes and top of the foil tent for steam). Place on hot coals or BBQ grate for about 5 minutes. Remove and carefully open packet. Add chicken to each packet and a few good squirts of BBQ sauce. Reseal packet and return to heat for 20-25 minutes. When chicken is cooked (no traces of pink and easily shredded), and potatoes are tender, top with shredded cheese before serving. Eat right from the packet.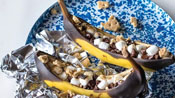 Banana Boat S'mores
4 medium sized bananas, unpeeled
1 cup mini-marshmallows, each cut in half
1/2 cup mini dark chocolate chips
1/4 cup graham wafer crumbs
Set each banana on a piece of foil large enough to wrap it; place banana curved side down so it sits up like a boat. Split the banana in half lengthways, all the way down to the skin, but not through the skin. Pry the banana open and fill it with chocolate chips and marshmallows, topping with the graham crumbs. Fold the foil up around the banana and seal it shut. Lay the banana right side up, like a boat, on hot coals or a cooking grill and cook for about 20 minutes. Carefully open the tinfoil to check. Bananas are ready when the marshmallows and chocolate are melted inside.